Got a new set of tires for the Sportster. The old front tire was not in terrible shape but the rear tire was pretty worn with not much tread left on it. The Sportster project gets a new pair of shoes.

Got the front and rear wheels removed.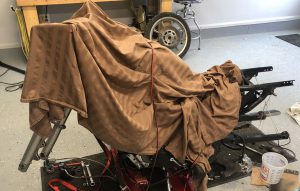 She's covered up with the sheet cause of all the f'ing pollen floating around.
Took the wheels up to Tidewater Motorcycles to get new tires. They mounted and balanced them for me and they look great.
Lot of rust on the shock mounts and rear fork.

Cleaned up the rust and chipping paint on the rear fork and top shock mounting studs. Hit it with my 10 foot fix (wire brush, little sanding, some etching primer, and black engine paint).

Front wheel mounted and the front brakes all hooked up and bled.


The front axle pinch bolt was missing. Bayside HD had one of those along with the washer, lock washer, and nut. Not planning to put a front fender on it but will need to get some kind of brace for it.
Rear wheel mounted and the rear 48 tooth sprocket looks great.


The rear brake pads are in pretty bad shape, going to replace them. Replaced the mounts for the shocks with new hardware.
She is getting there.


Found a stock rear fender and struts on eBay (you can see the fender in front of the workbench in the picture above) so those will go on soon as well. Have to get the final drive put together and the rear brakes right then she should be ready for a test ride.