Had some issues with a lifter not lifting (another post on that later) and discovered the Cam gears were not timed correctly.  Got everything fixed and put back together.  She fired right up and was running great… then the oil light came on.

Checked the tank and lines to make sure nothing was pinched or such. Ugh, had to pull the oil pump, again. The manual says it can be pulled without removing the cam gear cover. This was not what I experienced. I just could not get to it without taking off the cam cover. Pulled the front pipe and cam cover to get to the oil pump. Disconnected the oil lines and removed the oil pump.
Got everything pulled apart and found one of the pins on the gear shaft was sheared off. The pin rotates the gerotor with the shaft. If you look at the picture below you can see where one of the 2 pins (in the red box) from the gear shaft is a fair bit shorter than the other – these should both be the same size. The broken piece of the pin was also in side the pump, and I got lucky as it had not done any damage inside there.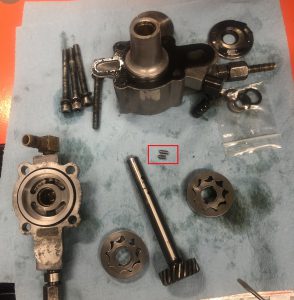 eBay to the rescue. Had a bag of the pins in just a couple days. I replaced both of the pins on the gear shaft. There are 2 gerotors – one for the feed and one for the return. Re-installed the oil pump.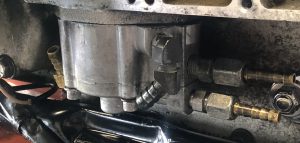 Replace the cam gear cover, had to static time the ignition again (getting pretty good at this), reinstall the front pipe, plugs, and battery. She is all buttoned up and ready…
Almost time to get her down off the lift and take her for a ride!