The Sportster is a 1990, the same year I graduated from High School, which makes it well over 25 years old. In Virginia, since the bike is over 25 years old, it qualifies for antique license plates.

The process and rules to obtain antiques plates in Virginia are fairly simple. The model year of the vehicle has to be over 25 years old prior to January 1st of the current year and you have to have, or have access to, another vehicle with a standard registration. There is a form you have to complete, VSA 10B, to certify that you own or have regular use of another vehicle. The antique plates are not meant for vehicles used for general or daily transportation.
All the rules and forms can be found on the Antique Motor Vehicles page on the Virginia DMV Website. Antique plates are good for the life of the vehicle (no annual registration, no month/year decals), but obtaining them does require that you visit the DMV in person 🙁
You have two choices for antique plates, black on yellow or white on black; I went with the white on black. The DMV did not have antique plates for motorcycles at the service center. They issued me a temporary regular motorcycle plate and sent the antique plate in the mail. I finally received my antique plate in the mail last week and it looks great on the bike.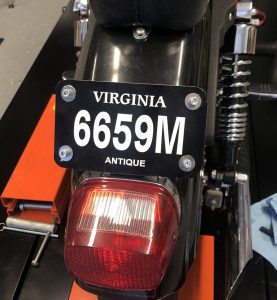 She is just about ready for the road.