Wanted a small bag for the Sporty. Just something to keep the registration, glasses, etc. Didn't want anything too big. Looked at a bunch of different options and found this nylon bag from Deadbeat Customs.

Used the included velcro straps to mount it to the sissy bar. Some of the reviews said the included straps seemed a bit flimsy, but in my opinion they should do the job.

Nice size, fits great on the sissy bar. Plenty of room for glasses, a pair of gloves, maybe a tool or two, and the papers.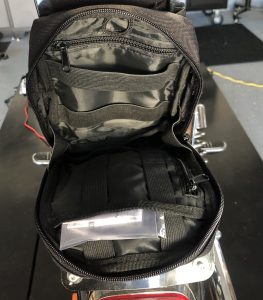 I'll probably pick up another one for the Heritage.