Cylinders have been honed, valves have been lapped, and the pistons and rings have been installed. Getting the valve oil seals and valves installed in the heads so I can get the 1992 Evolution motor top-end put back together.

Used a small piece of packing tape to wrap around the valve steam to cover the keeper groove. This will prevent the seal from catching on the groove which could damage the valve seal.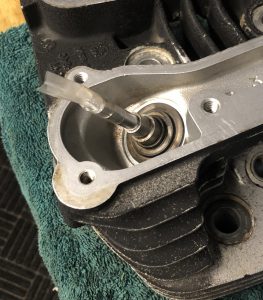 Picked up a Valve Guide Seal Installation Tool from Amazon to install the valve oil seals.


This valve seal installation tool did the job, but it was completely not needed. Per the instructions in the seal kit I could have just used a 7/16 deep well socket. I used the valve guide seal tool since I bought it and it worked fine, but really did not need it.
Coated the seal and valve guide with a little motor oil. Used the valve guide seal installation tool and rubber mallet to tap the valve seal until it was seated on the valve guide.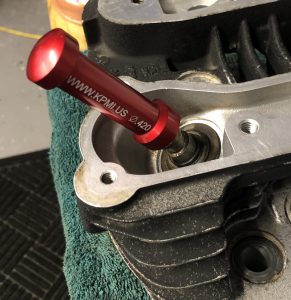 Again I could have just used a 7/16 deepwell socket for this, but since I had already bought the valve guide seal installation tool I used it. I also used a 7/16 socket – both worked fine.
I tried using the valve spring tool which I used to disassemble the valves to reassemble them. It worked for the exhaust valve but not the intake valve ??? After fighting with it a bit, and losing, I decided I should probably try something else. I picked up a different Valve Spring installation tool.


I should have picked up this valve spring removal/install kit in the first place, it was much easier to use than the other tool and was much stronger (less flexing) – made quick work of compressing the valve springs to get the keepers installed.
The valve spring is compressed with the valve spring installation tool so the valve keepers can be installed.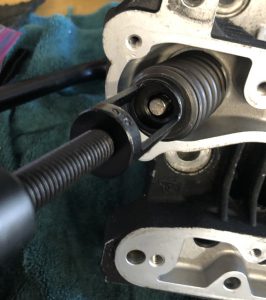 The keepers hold the valve steam and valve spring in place. In the picture below the valve keepers have been installed.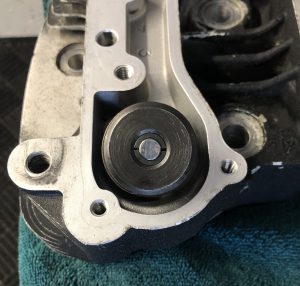 If the keepers are installed correctly the gap between the keepers should be equal, or pretty close to equal, on each side. Looks like I got them right.
Both valves are installed in the front cylinder head.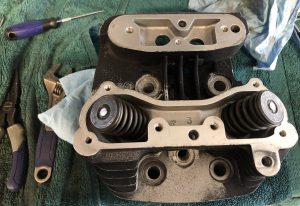 Got the rear cylinder head put together as well. Next on to getting the cylinder heads on the cylinders.