I have been in Vegas this week for a work conference, but before I left I was able to mock up is the rear fender. To get the fender mounted I needed to get the fender centered, weld a fender support bracket to the frame, and drill the holes in the fender to attach it.

The fender support bracket is needed to add extra support in order to be able to carry a passenger. I enjoy riding with my wife, I plan to do a spring solo seat on the bike but I want to have a passenger pillion seat so she can ride with me. I picked up the TC Bros Weld-on Rear Fender Mount kit.


I was originally thinking of making one, but for under $15 delivered… probably couldn't make one for that (and it would not look as nice).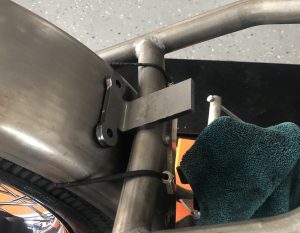 I got everything centered up. Then cut the mount to the length I needed and prepared the mount and frame for welding.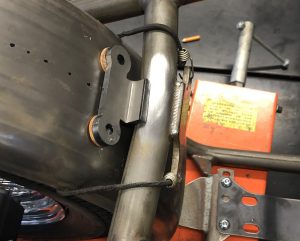 Couple of tack welds to hold it in place, then welded the mount to the frame and attached the fender. Not my best looking weld so far, but it looks like there is penetration so it should hold. Cleaned it up with the wire wheel and the angle grinder.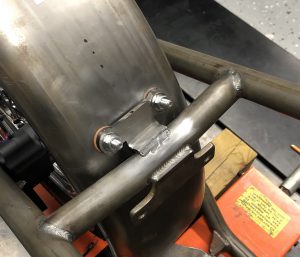 Still looks like crap (the glare makes it look a bit worse in the picture) I'll do some more work on it with the grinder. It'll hold.
Here are a few pictures of the fender on the frame:
From the underside…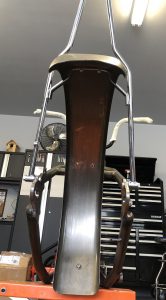 Had to drill 5 holes in the fender, 1 for the bottom mount, 2 to bolt it to the new mount which I welded to the frame, and 2 to attach it to the support on the sissy bar.
From the side…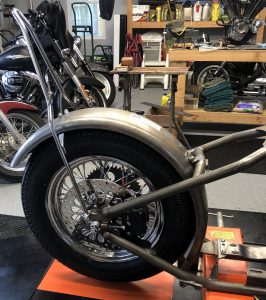 I am not sure I am going to leave it that long on the back. I may cut it off some, but I am still thinking on that.
From the top…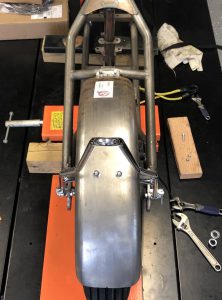 And from the rear…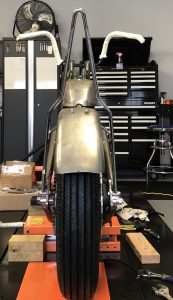 Things lined up pretty good.
The seat mounts and solo seat should be waiting for me when I get home from Vegas so I hope to be able to get that mocked up this weekend. Once I have the seat mounts welded to the frame I should be able to mock up the oil tank, transmission, and motor. I will likely need to cut out the fender so the final drive chain will clear it, but saving that for another day…