I thought I had an old Softail seat, but I don't. I know I had one, maybe I sold it 🙁 I did have two touring seats, but neither of those would look right on this. A solo spring seat it is. The solo spring seat will need a front mount for the pivot bracket and the spring bungs welded to the frame. With this done I think I'll be done welding things to the frame and I can start mocking up the oil tank, transmission, engine, final drive, and primary.

I picked up a solo seat mount kit from diycycleparts
on eBay. The kit included weld on bungs, leather washers, lock pins, 3″ springs, and the seat pivot bracket.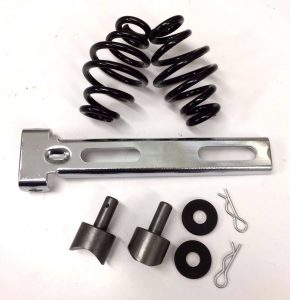 The frame had a front mount for a softail style seat. I had to cut that off and make a new mount for the pivot bracket for the solo seat. The pivot bracket acts as a hinge for the solo seat so it can be lifted forward to access the battery without having to remove the seat. It took a few tries to get this right…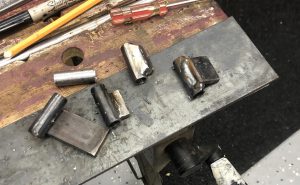 The biggest issue I had was letting things get too hot an burning through the round tube. Took a few tries to get the hang of it.
After a few tries I was able to fabricate a mount I was happy with and I welded it to the frame.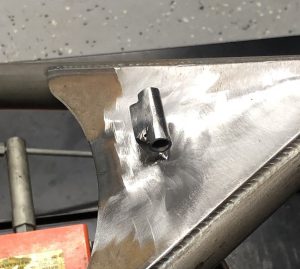 I ended up having to do this twice. The first time I welded it on too far forward and the springs would not line up right. I had to cut it off, grind it down, make a new mount, and weld it on further back (lesson learned – measure twice, weld once). Second time was a charm and I am pretty happy with the results.
With the front mount welded on I was able to mock up the seat with the springs to verify placement of the rear mounts.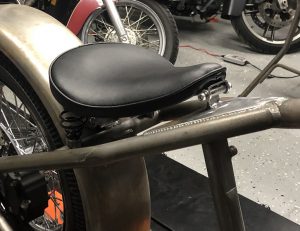 The seat is a black smooth solo seat (V-Twin 47-0071) which I picked up on eBay from swissmountain67
.
Once I had the seat and springs where I wanted them I tacked the solo seat spring bungs to the the frame.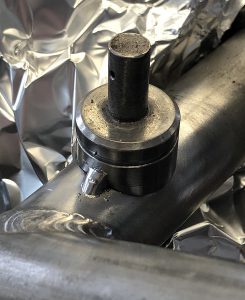 Checked to make sure the seat and springs still fit right before doing the final weld.
Welded both spring bungs to the frame.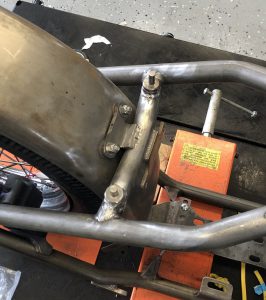 Welds were not too bad, I'll clean them up more when I strip everything down to paint the frame.
With the front mount and bungs welded the seat pivots forward which will allow easy access to the battery.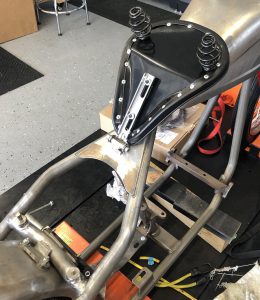 With the seat mounted I was able to mock up the oil tank.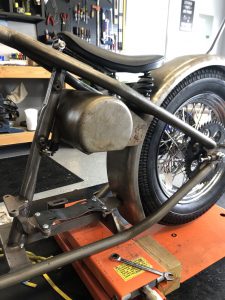 Then I was able to fit the transmission and motor in the frame.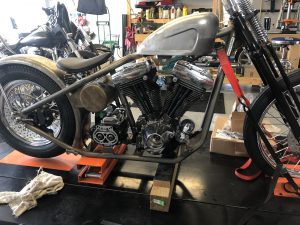 Next thing on the list is to test fit the final drive chain and get the belt drive primary mocked up (once I get it – going to order it today).
Made a lot of good progress on the project this weekend, still a long way to go, but getting there…