Fixed up a couple of my welds and hit the whole frame with a wire wheel. Then sanded the entire frame with 220 grit sandpaper. Cleaned it all up with some degreaser. Probably would have been easier (and maybe better) to have the frame sandblasted, but I don't have the gear for that.

I think I did a pretty good job with prep without. We will see how the paint holds up. All ready for paint.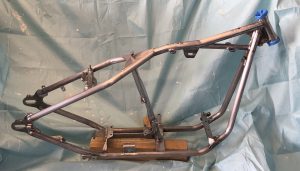 Applied a couple of thin coats of self-etching primer. Making sure I had full coverage everywhere. Only ended up with one run up towards the neck where I got a little heavy trying to get into that area.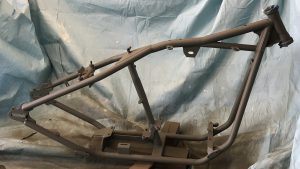 After primer fully dried I lightly sanded the whole frame again with 400 grit sandpaper. Then painted it with black semi-gloss.


Have one place to fix on the bottom of the frame where the paint did not take right (kind of crinkled up). I'll sand it down a bit and then recoat.
Overall I think it looks pretty good. A little touch up and will be able to start putting it back together.