First time in a couple weekends I have had a chance to do some tinkering on the 1992 EVO project. Just a lot of stuff going on with family, other projects, and work. The frame is painted and ready to start putting things together.

Installed the steering neck races and bearings so I could reassemble the front end. Used an inexpensive bearing and race driver set to install the steering neck races. Installed the dust caps and the springer front end. Tightened everything down.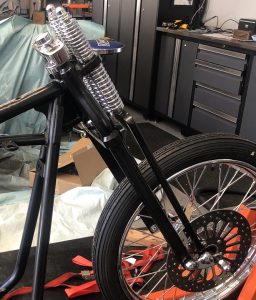 All good there. I shouldn't have to disassemble the front end again.
Started finishing up the rear fender so I can get it painted. Cut out the fender so there is clearance for the final chain drive. First I marked the fender for the cut out using marks I had made when I had everything mocked up.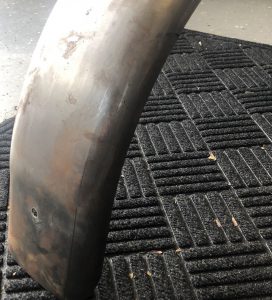 Then I cut it out with a jigsaw and a metal cutting blade. Then used the Dremel to clean up the edge. Mounted it up to check things.


Looks pretty good I think. Plenty of clearance for the final drive chain.
Picked up a rear passenger pillon on eBay. Think it was originally from a Harley Dyna Wide Glide or Super Glide, I think it'll look great on here.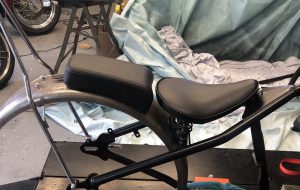 I also picked up a cool LED tail light from Lowbrow Customs. The tail light included a bracket for the light and license plate.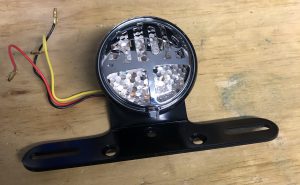 Drilled out the fender for the mounting bracket and fit the tail light.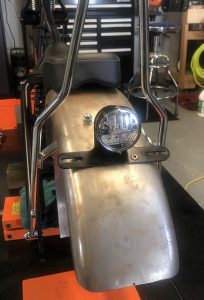 Once I get the rear fender and oil tank painted I should be able to get the transmission, motor, primary, and final drive set up. I have most of the parts to get that stuff going. I still need to order the front brake set up, foot and hand controls, ignition system, and a bunch of other stuff to get her running. Moving right along, probably won't be as long as it has been 🙂