Made a fair bit of progress on the EVO project this weekend. Time to start working toward getting her running. Want to get her to start before putting a bunch more money into other functional and cosmetic pieces (like controls, lights, etc.)

Working through a to do list of things I need to acquire and do.
Ignition module and coil – Going to use the CompuFire HDE-1 just like on the 1990 Sportster Project, it's easy to setup and works. Have a good coil already. ORDERED
Plugs and wires – ORDERED wires will pick up plugs locally.
Ignition switch – I did have one, but I sold it with a box of other parts 🙁 So will need to get a new one. ORDERED
Wiring – Have the wiring harness, breakers, relays, and such.
VOES Switch – ORDERED
Battery and battery cables- I'll pick up a battery from Tidewater Motorcycles. If they don't have what I need they can get it quick. ORDERED the battery cables
Charging system – regulator, rotor, stator – Have all of this, just need to get it put in.
Exhaust – Still have not figured out what I am going to do here. Got to make a decision soon…
Oil lines and filter – I have the oil lines, just need to get it plumbed up.
Petcock and fuel line
Starter Mount Bolts – 5/16″-18 x 1-3/4″ – Picked up a pack of these from Amazon.
Started putting things back together. Rear fender is on, motor is in, and oil tank is mounted.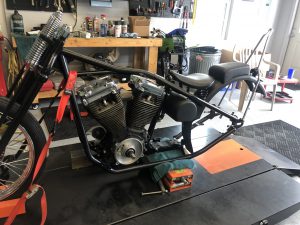 The circuit breakers and starter relay are mounted to the rear fender and I started the messing with the wiring harness. Going to get it mostly wired up before I put the transmission in.
The paint on the rear fender and oil tank looks great. I was able to get them mounted up without major incident (no scratches and such).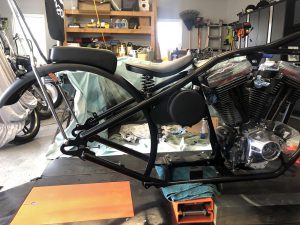 I had the cutest and best helper in the garage this weekend. She made sure things were right.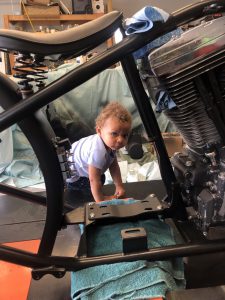 Still need to get the transmission in, the final chain drive put together, and the belt drive primary installed. Also have to get the fuel tank sealed and then painted, I plan to do this over the Memorial Day holiday.
There's more for sure, but this is a healthy start towards getting her going… UPS and USPS should start showing up with stuff over the next few days. Getting there…