While I was waiting for the paint on the tank to dry I worked on getting the 1992 EVO Project wired up and put a battery in it this weekend. I picked up a complete main wiring harness on eBay a while back. It included the main wiring harness, circuit breakers, and all the stuff needed to make all the connections.

The harness was set up for a split tank set up with a dash, so I had to move some things around. Turned out to be a bit more of a project than I thought it was going to be but after a bit of splicing and soldering I think I got it all worked out. Here are the instructions from the harness should I need to reference them again.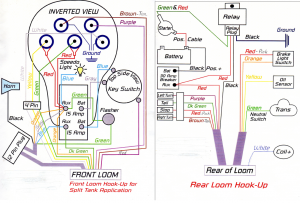 The wiring harness is still mostly intact, but since there is no dash I had to extend things to the ignition switch and the 15 amp breakers. I don't have the hand controls yet so the handlebar switches will get wired up later. The harness I got came with a 12-pin connector to wire all that in.
Originally I planned to mount the circuit breakers to the rear fender, along with the starter relay. Unfortunately there was not enough clearance once the oil tank, transmission, and starter were in. So I had to rethink where I would put them. I could have probably modified the fender, but it was easier to find somewhere else to put it.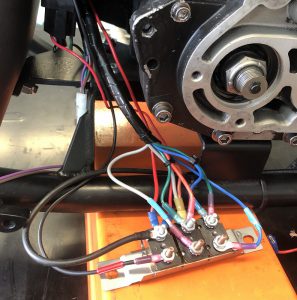 Turns out the circuit breaker mounting bracket I have (which I picked up for the 1990 Sportster Project but ended up not using it) fits under the transmission on the transmission mounting bolts, so that is where it is going to go.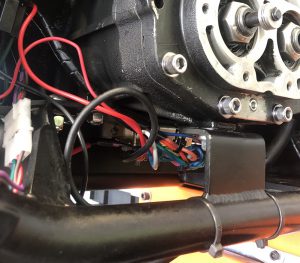 Tucks in nice under there.
I picked up a speedometer with indicator lights from Modern Motor Cycle Company. Here is the wiring diagram for the warning lights. Might be useful to someone or I may need it in the future.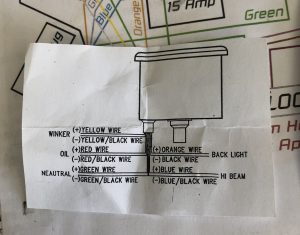 Got it all wired up and tested the warning lights. The back light, neutral light, and oil pressure light all work. A small sign of life but a sign of life…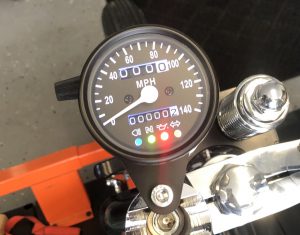 The speedometer is temporarily mounted to one of the handlebar risers, it will end up being attached to the handlebars between the risers. Modern Motor Cycle Company also has some other cool parts and such. I'll definitely be stopping by there again (they have a nice selection of affordable headlights).
The LED tail light I picked up from a Lowbrow Custom's clearance sale a few weeks ago is also wired up, works, and looks AWESOME!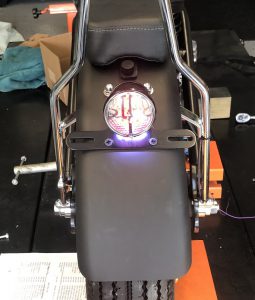 I wired it up for turn signals as well, even though I have not completely decided if it is going to have them yet. If it does the wiring will be there.
Up front is a bit of a mess, but it'll get tightened up. It should all tuck up under the tank with no problem.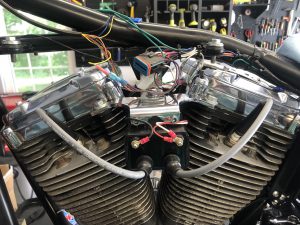 Most of the main wiring is done – coil, ignition switch, indicator lights, circuit breakers, starter, VOES, ignition module are all wired up, I'll get things cleaned up once I have everything tested.
Getting closer…