Waiting on the front brakes for the 1992 EVO Project. Ordered them last week and they were suppose to be delivered Monday. Looks like they had some alternate travel plans and decided to take the long way with a quick trip to sunny Columbia, SC first (guess it wasn't hot enough here) 🙂

So far they have traveled from Philadelphia, PA to Norfolk, VA to Columbia, SC to Richmond, VA and hopefully back to Norfolk today and then to my front porch. Fingers crossed…
Hopefully they will be here today or tomorrow.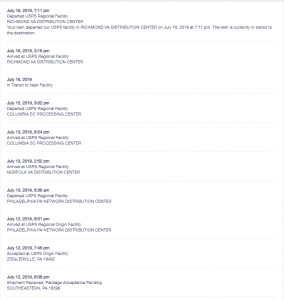 This is the last major piece of the project. So close and the waiting is killing me.