A few weeks ago I picked up the Lego Creator Harley Davidson Fat Boy kit. Finally got to build her over a few nights. The kit contains 1023 pieces and the assembly is 271 steps broken up into in four sections. The first section is the power plant and lower frame section; the second section is the frame backbone, oil tank, rear wheel, and rear fender; the third section is the dash, tank, seat, exhaust and primary; the fourth and final section is the front forks, front wheel and handle bars. The blocks are separated in bags labeled 1-4 for each section of the build. It took me a couple hours to build each section.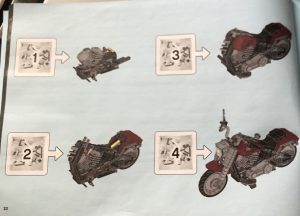 On the first night I built the first section which is the engine assembly and lower frame. Pretty neat that the gears drive the pistons, not so neat that you cannot see them with it all buttoned up 🙁 but it does look pretty sweet all put together.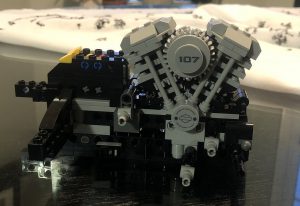 I finished up section 2 on the second night which includes the rear wheel, fender, backbone, and oil tank.
Hey this thing has a chain drive you have to build link by link. It takes 43 of them.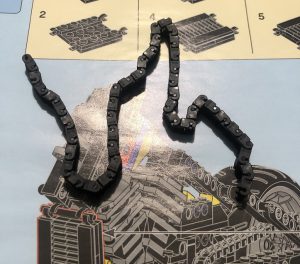 Section 2 is finished and it is starting to look like a motorcycle.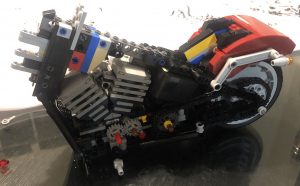 The rear wheel rolls and the drive "chain" is connected to a drive gear which moves the pistons (which as I mentioned you unfortunately cannot see).
Another evening, another section. The third section went pretty quick and had fewer tiny pieces. This section included the seat, dash, fuel tank, front cylinder exhaust, and primary.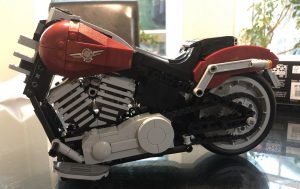 Finally the fourth and final bag of parts is put together.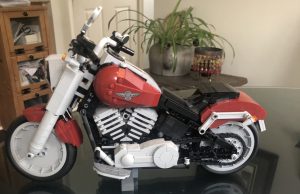 Looks pretty nice.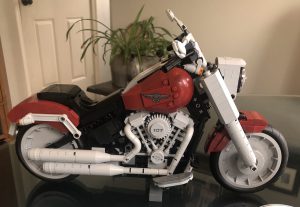 Overall I think it probably took 5-6 hours to finish up. Sections 1 and 2 took the longest, the others went fairly quick.
Pretty cool kit and I enjoyed putting it together!
Want to build your own? You can pick up the Lego Harley Davidson Fat Boy on Amazon.