We had the Heritage down in Daytona and had a blast riding around in the Florida sun. I could tell she was feeling a bit neglected due to the other projects. We took a ride up A1A from Ormond Beach to St. Augustine and she developed an exhaust leak. The throttle was also sticking open. This weekend I had the Heritage up on the lift to take care of a few things… carburetor rebuild, fix the exhaust leak, clean things up, and a few other maintenance things which I have neglected due to working on other projects.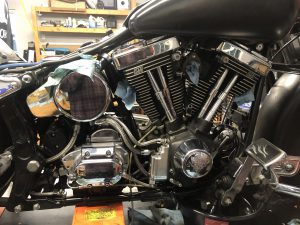 Since the throttle was sticking open while we were in Daytona, we stopped in the J&P Cycles' retail store and picked up a rebuild kit for the S&S Super E carb.
The rebuild kit has pretty much everything you need except the S & S Cycle Backing Plate Gasket. Not sure why they leave that out, but it ain't in there so I picked one up. After I got things pulled a part the float was pretty crusty. No cracks or anything so it is probably still fine, but I have it apart, and everything else in there is new, so I ordered a new S & S Float. I'll keep the old float as a spare.
The carburetor was pretty gunked up, no surprise as the reason why it was sticking open. Kind of surprised it was running as good as it was. Anyway it is all cleaned up and rebuilt.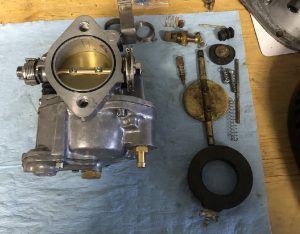 Lubed up and adjusted the throttle cables and she is working like new.
I have had the exhaust, Hooker Header Troublemakers which are not available anymore, on it for a good while. They are showing a bit of age and a little surface rust. The age and patina actually looks pretty cool, but I decided while the exhaust was off I'd hit it with some header paint I picked up from the local auto parts store just to freshen them up a bit and hopefully preserve them for a bit longer. Cleaned them up, hit them with a Scotch-Brite pad, and then the header paint.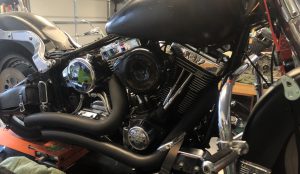 The exhaust leak was on the front cylinder but I am replacing the gasket on both the front and rear. Picked up a Genuine James Exhaust Gasket Kit. The kit includes the gaskets, flange nuts, and retaining rings.


The cause of the exhaust leak actually looks like it was the retaining ring. It was really mangled. New gaskets and retaining rings on the front and rear. Should be good to go now.
Changed the engine oil, transmission oil, and cleaned and oiled the air filter. She is put back together and running great. I have a few other things to tighten up and then she'll be ready to roll. Hopefully we will get out on her next weekend.
In the Spring I am planning to freshen up the paint on her. Nothing fancy, rattle can flat black. I'll clean everything, give it a light sanding, and then shoot it with some flat black… but that'll be a project for another day. Also going to add a set of hard bags to her. The tool bag and swing arm bag are just not cutting it.
I'll get back to working on the 1988 Sportster Project soon… ride safe, stay tuned.