Hope everyone had a great Thanksgiving! I enjoyed the time with my wife and we had a fantastic turkey dinner. I had some time off from work so I did a bit of tinkering on the 1988 Sportster Project. I also did some shopping. TC Bros Choppers and Lowbrow Customs both had some pretty decent "Black Friday" sales so some parts are on the way!

I plan to extend the front forks to 6″ over stock. So I broke down the front end to make sure I could get it all apart with out breaking anything. Came apart pretty easy and everything looks good.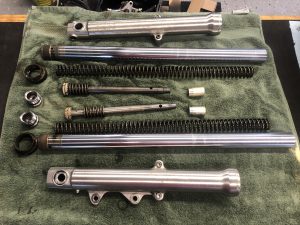 Got it all cleaned up and I started polishing the lowers. In the picture below you can see a polished lower next to the one that is unpolished. This is after a couple hours of sanding and then polishing. Still needs a little work but I think it looks pretty good.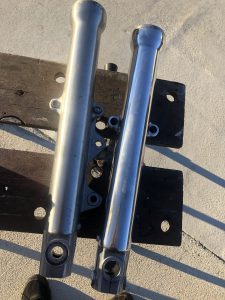 On Saturday night I got the oil lines run and the cam gear box buttoned up. Coated the cam gears and bushing with assembly lube, installed the cam cover gasket, and bolted down the cam gear cover.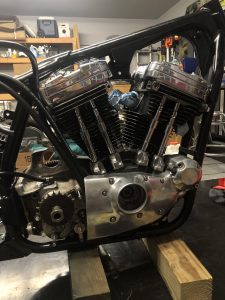 I tested the starter I have. Hooked it up to a battery and made sure the starter solenoid and starter motor were both working. Good news! The old stater works!
Here is a great video on how to test a starter motor, the guy is working on a car starter but the concept is exactly the same for just about any starter.

Making progress. Going to start working on the primary side soon. Hope to have most of the motor buttoned up by the first of the year.