The Dynatek S Ignition system I ordered last week was delivered yesterday. Had some time to tinker after work so I got it installed, wired up, and set the static timing.

Temporarily using the battery from the 1990 Sportster. This one will get its own when it is closer to ready to ride. Still think I am going to be able to try to make her run this weekend but there is still a lot to do before she will be ready to ride.
I decided to use the Dynatek S Ignition System for this project. It's a dual fire ignition… wasted spark blah, blah, blah, whatever it is simple, affordable, reliable, and it works. I have run these before and not had any issues.
The Dynatek S ignition system kit system comes with the ignition module, rotor, a 5-ohm coil and the connectors required to connect up the coil. It requires a mechanical advance unit. I had a one of these which I did not end up needing on a old project. Got it all installed and wired up.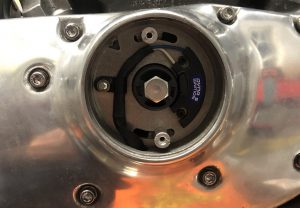 I got the coil installed and wired up, had to extend the wiring to reach the stock coil location. The instructions say to make sure you do not connect the blue wire from the module to the 12 volt side of the coil or it will destroy the ignition – we don't want to do that.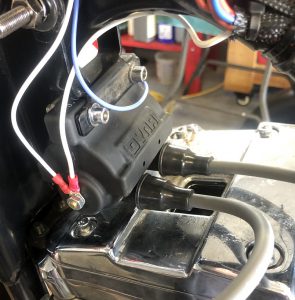 Set the static timing… I bumped the starter a couple of times and she turned right over. Couple few more things (fuel) to wrap up and she should be ready to start… hopefully over the weekend.