Hope everyone is safe and well. I worked on the headlight for the '88 Sportster Project last night. Had a cool rectangle headlight that was in a box of parts I picked up when I acquired the 1988 Sportster frame. Just needed a way to mount it to the triple tree.

The lower tree already had two holes drilled in it, and I had some left over ~1/8″ aluminum sheet from when I made the side cover.
I measured the distance between the two holes in the lower tree, cut out a piece of aluminum to fit, and drilled the mounting holes.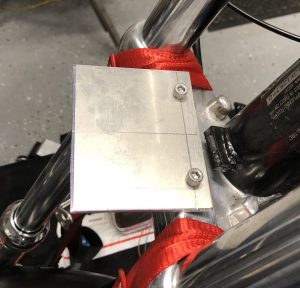 I had a headlight mounting block from JP Cycles that I used to attach the headlight to the mount.

A little cutting, drilling, and shaping. I ended up elongating the mounting holes in the mount. Since the two holes in the lower tree are not exactly centered, this will allow me adjust the mount left and right so I can make sure the headlight is centered. Drilled a hole for and attached the headlight mounting block from JP Cycles.
Attached it to the lower tree using a couple 1/4×20 socket head screws and some acorn nuts.

Ended up with a solid and functional headlight mount. Just need to do a bit of finishing on it.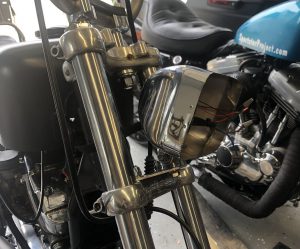 Now I need to get the headlight and brake light wiring done.