A buddy of mine, Cory, recently picked up a really nice 2001 Harley Davidson 1200 Sportster Custom. The bike is in pretty decent shape and mostly original. There were a few things that needed to be addressed, it had been sitting for quite awhile so a few weeks ago we changed out all the fluids. This weekend we addressed a few other issues. It had a leak from the front rocker box, needed a new front tire to pass inspection, and he wanted to do a couple of cosmetic things to make it his own. Cory brought it over to the garage and we got it squared away.

We put it up on the lift and pulled the front wheel so he could take it to Tidewater Motorcycles to get the tire replaced so it will pass VA state inspection. While we were waiting for the tire to get mounted we started taking things apart, removed the air cleaner and tank, pulled the rocker boxes, and cleaned off all the old crusty gaskets.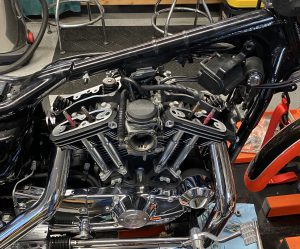 Cory picked up a Cosmetic Gasket Rocker Box Gasket Kit from JP Cycles. The kit has all the gaskets needed for the rocker boxes including metal lower rocker box gaskets, which are an upgrade from the original paper gaskets.
We replaced the front and the rear rocker box gaskets since we had it all torn apart, even though only the front was leaking as far as I could tell. We cleaned up all the oil off the front motor mount and from down the front of the motor. It was really leaking pretty good, but it is all cleaned up now and it shouldn't leak anymore – but if it does we will be able to tell.
Cory also picked up some new levers, grips, and mirrors. So we got them put on as well.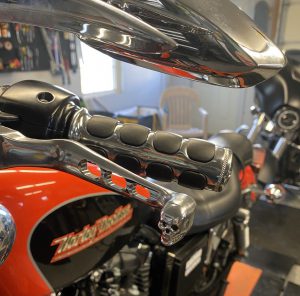 Tidewater Motorcycles got the new tire mounted on the front wheel and we reinstalled it.
It took us about 6 hours of work over a couple afternoons to take everything apart, get everything cleaned up, and get it all put back together. After getting it all put together and cleaned up we had a couple of cold ones and admired our work.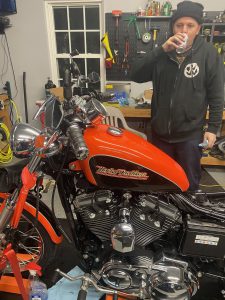 It really is a great looking bike. All put back together, cleaned up, leak free, and ready to go…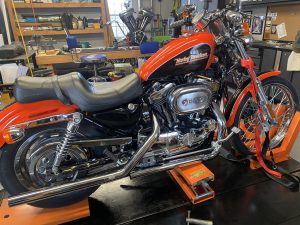 He got himself a great ride, and he is riding the shit out of it.