Was searching around the Internets for rebuild kit for my Tokico brake caliper that I put on the 1988 Sportster and found BrakeCrafters.com. Looks like they stock a lot of caliper and master cylinder seal and rebuild kits, especially for metric bikes. Ordered a seal kit for the 2007 Kawasaki Ninja Tokico caliper I am using for the front brake on the '88 Sportster which was an eBay find.

Will update this post on quickness of shipping and quality of parts once I receive them…
UPDATE – 04/02/2021
Ordered the kit on Sunday night, it shipped Monday. I used their free shipping option which was USPS First Class with tracking and the kit arrived on Thursday 4/1/21. Going to get the caliper rebuilt tonight (I hope) so I'll post some pictures tomorrow.
UPDATE – 04/03/2021
Great kit with good quality components. Everything needed to replace all the seals on the Tokico brake caliper I am using on the 1988 Sportster.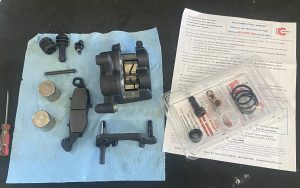 Caliper rebuilt, re-installed on the bike, and bled. Works like it should.
Good stuff and I will be picking up a kit for the Honda Shadow front caliper at some point as well.