I bought the 1999 Honda Shadow ACE for Sandy back in 2002 and since then not much changed with it. A few things here and there, but nothing major. After stumbling across TJ Brutal Customs we got some inspiration to give the old Shadow a refresh. She got a good work over and a new look which included velocity stacks and tuning, exhaust, tank, fender, solo seat, front rotor and brake pads, grips, pegs, and bars. After all these years she is still a great bike and now she looks and runs better than she has in a long time.

Here is a picture I took of the 1999 Shadow ACE a long time ago (I think it was in 2004) pretty much how we got her other than replacing the rear seat with the rack, wrapping the pipes, replacing the stock air cleaner cover, and adding the ape hangers.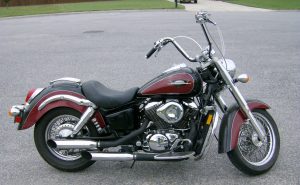 The bike had not changed too much since 2003 or so… until recently 🙂
We started the make over on the Shadow back in January 2021. Here are some of the modifications we made over the last few months:
From TJ Brutal Customs:
Velocity Stacks – to get rid of the air box and unnecessary hoses and such.
Carburetor Performance Kit – Rebuild, re-jet, tune up.
Shorty Choke Knobs
Backdraft Exhaust
Peanut Tank (This tank is for a VT600, just had to drill a hole through the frame for the front mounting bolt and looks great on the ACE)
Grips and pegs
Side mounted licenses plate and tail light.
All of TJ Brutal Customs parts shipped quick (except the tank – well it shipped quick but it took forever to get here) and it's all great quality stuff.
Removing the air cleaner and stock air box to replace them with the TJB Velocity Stacks really cleaned things up a bit. The new TJB Backdraft exhaust and peanut tank look AWESOME. She got narrower black Biltwell ape hanger bars I picked up at a swap meet and the TJB grips look great on them.
Removed all the turn signals, looks better and keeps them guessing. Relocated the license plate and tail light to a side mount. I started out with the license plate side mount on the left side of the bike, but I moved it to the right side to make the tail light wiring a bit easier/cleaner.
From Bobber Cycle:
Rear Fender Struts
Rear Fender Mount
Solo Seat and Adapter
Bobber Cycle also shipped parts quick and the quality is outstanding.
Replaced the rear fender with a trailer fender and the new solo seat finished off the new look. The new fender, tank, seat, and bars give it a good looking profile I think.
Fixed the front brakes, new brake pads and a new front rotor I picked up on eBay. She stops like she should.
This is what she looks like today…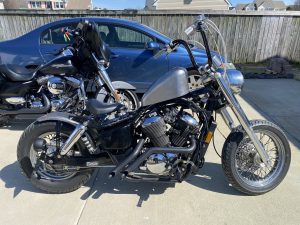 Yep definitely an improvement – she looks and runs better than she has in years.
Changed the oil and filter, replaced the fuel lines and fuel filter, tuned up and put in a new set of spark plugs, sealed the fuel tank, flushed the front brake fluid, lubed up all the cables, and synchronized the carburetors. Been a fun project, she is not 100% finished (they never are) but she is ready to ride.
Still want to do something with the headlight, but that will be another day. We also still have not 100% decided on what to do about paint. Probably going to let it patina a bit then just put a coat of clear on it or it may get the rattle can flat black treatment, we shall see.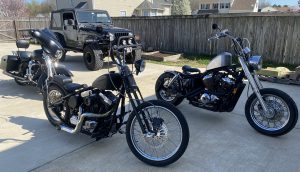 There is still a little bit to do on this bike but right now the weather is starting to warm up so it's time to get out there and ride her a bit 🙂