Started building this sissy bar for the 1988 Sportster a while ago and it has been on the bike for a bit now. Added the license plate bracket and finally got the tail light wired up.

The tail light is from Hypnic Jerk Customs. I won it in a raffle at the Peanut City Chop and Swap back in 2019. The carb and bars on this bike also came from that swap meet. The tail light is made to be welded on, but I "converted" it to bolt on by drilling 2 mounting holes in the back of it and bolting it to a support I welded to the sissy bar.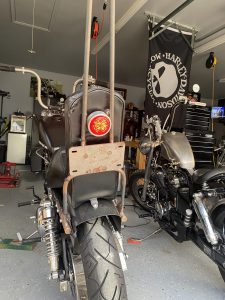 The Prism Supply Co license plate bracket is welded on to the sissy bar. At some point I'll paint it or something (so maybe a Part III post) but the weather is warming up so for now it is going to stay rusty.
Have taken her out a couple times now and she is really fun to ride.