I picked up a new project this weekend… a 1988 Harley Davidson Sportster with a custom swedish style frame. Jon, the previous owner, reached out to me in a comment on SportsterProject.com to see if I was interested in it. I was interested of course. After a few emails and text with Jon, Sandy and I took a road trip with the trailer up the Eastern Shore this past weekend to pick it up. The bike has not run since 2006, she is dirty and pretty crusty but still pretty bad ass. Would really like to get her back on the road.

Of course no sooner than we got her home and off the trailer I started tearing into her.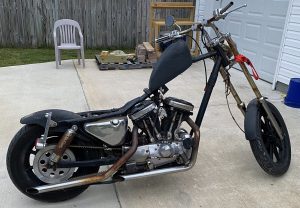 First thing on the list of things to do is to get it on the lift and get it cleaned up some. Like I said it is kind of crusty and I need to get at least some of that off. After getting the first layer of grim off I removed the spark plugs, put her in 4th gear, and turned the rear wheel to see if the motor was free… nope.
So things escalated pretty quickly…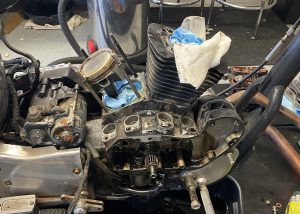 The front cylinder is fine, I can still see hashes on the cylinder walls. The rear cylinder was full of rust, the piston was rusted in to the cylinder. Took a bit of work but I got the rear cylinder free. Does not look like any moisture made it down into the bottom end and it seems solid, so a positive there. Heads also seem to be fine, just need to be cleaned up. There was some surface rust on the rear exhaust valve, but it wiped off and looks to be ok. I'll end up giving them a good cleaning, lapping the valves, and replace the valve seals.
The cam chest, cams, and lifters all look good. Going to pull the oil pump to check it out and clean it up. Also going to get primary pulled apart to see what state it is in before I start looking for parts.
If everything else looks ok I'll be looking for a cylinder and piston for a 1988 XL1200 Sportster (OEM #16447-88A) if anyone has one. This project is probably going to keep me busy for awhile.
More to come…