The last time this 1988 Sportster was started was around 15 years ago, back in 2006. Well Friday night, that clock was reset. Finished putting the motor back together, added some oil and primary fluid, threw on a set of pipes, wired in a battery, and… hit the switch. She fired right up!

Some temporary wiring and a donor battery from the 92 Evo Project. The wiring looks like a rats nest for sure, but it's temporary, just enough to get the volts needed to get her to fire up.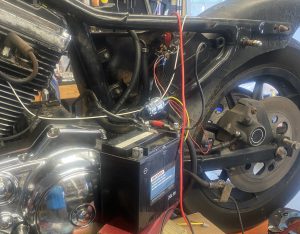 I am using a 3 position key switch which works more like a car ignition switch instead of a separate start button. Turn the ignition on, turn a little more to engage the starter. Then it springs back to the on position when you let it go. I plan to make a bracket for the switch, the oil pressure, and neutral light – not planning on having any switches on the handle bars.
After everything was put back together and the temporary wiring was double checked, gave it a couple shots of starter fluid… then hit the switch.
She fired right up!
Around $400 invested in her so far. A set of used cylinders and pistons, new gaskets all round, and a Dyna S ignition and coil.
Since she started here is the new list of to dos:
Fix battery tray mounts on oil tank.
Replace drive belt with chain.
Rewire.
Replace handle bars and hand controls. I have a few different handle bars and some control odds and ends.
Rebuild front forks. Replace 8+ fork tubes. In search of a set of 8 over 39mm fork tubes.
See what needs to be done to make the brakes work like they should.
There is more but this will keep me busy for a bit…
Was really awesome to hear her run. Now I'll start working towards getting her back on the road.