Some more tinkering on the project… getting really close now. I found a Maltese cross velocity stack which has a cool old school look that fits the bike really well. Got the new velocity stack, petcock, and fuel filter on her. Few more things to do: mainly front brakes, wiring up the lights, and paint, then she should be ready to go. Looking forward to being able to take her for a ride… soon, very soon.

I have been searching for an air cleaner that would fit the style of the bike – something cool and old school. I borrowed the intake manifold, carb, and carb bracket from the 1990 Sportster. I guess I could have borrowed the air cleaner as well, but I wanted something other than just a round air cleaner. Came across this Maltese cross velocity stack.


The top motor mount on the frame has a Maltese cross cut into it, so I thought this would fit the old school style (and it was inexpensive).
Picked up an cheap 1/4″ NPT to 5/16″ hose barb valve to use a petcock. It should do the job, hopefully it doesn't leak. Added a K&N inline fuel filter to keep junk out of the carb since there is no screen inside the tank.
Mounted the new velocity stack and plumbed up the petcock valve and fuel filter. The velocity stack looks pretty good on there and you can see it matches the Maltese cross cut in the top motor mount. Sticks out a little further than I thought it would, but I'll get use to that.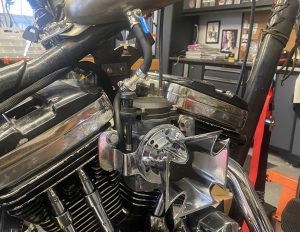 I cut out an aluminum side cover from a piece of scrap 1/8″ aluminum. Polished it up and mounted it.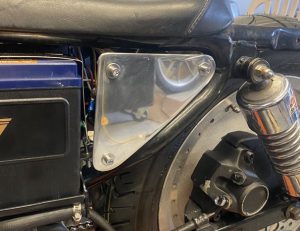 This is similar to side cover I made for a previous project. Nothing fancy but it looks pretty good and will fill in the gap there. On the previous project I mounted the key switch and start button in the side cover, not doing that on this project. I think I might try to etch or cut a Maltese cross (want to go down a rabbit hole follow the Wikipedia link for the Maltese cross) in the center of this one just to add a detail to match other parts on the bike.
Found an aftermarket Honda shadow front brake lever and master cylinder on eBay, waiting for the brake line and fittings to get the front brakes hooked up. Also still need to get the lights wired in and some paint on the tank and fender… almost there.
Starting the search to replace the parts I borrowed from the 1990 Sportster. I have a carb for it but need an intake manifold for a CV carb on an Evo Sportster if anyone has one they want to part with let me know.