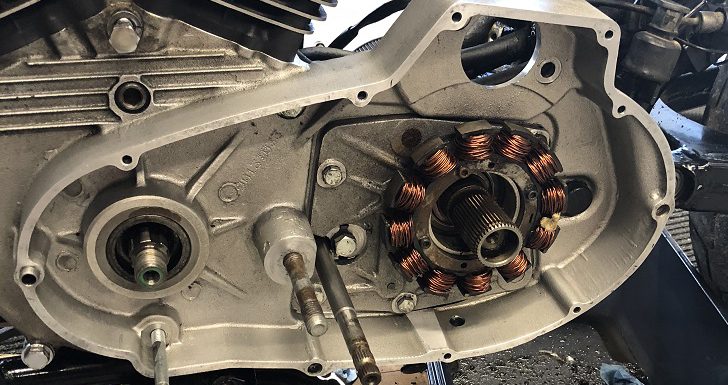 Got the primary tore down this weekend. Went pretty quick following the process in the Clymer Manual. Getting the primary gasket cleaned off was a bit of a chore, but other than that things went pretty smooth.

To get the front sprocket off you need to lock it to keep it from moving. This Primary locking tool does the trick.


The Primary locking tool jams up the chain on the sprocket so it does not turn when you remove (or install) the nut.
I pulled the clutch plates while I still had it on the bike (just seemed like it would probably be easier to do it that way). To remove the clutch you need a special tool to compress the diaphragm spring.


I picked this up from JP Cycles – Part Number 6300205. Pretty pricey but needed to safely remove the clip and spring to remove the clutch pack. Once you remove the clip from the spring the whole thing just slides out. The clutch plates and the diaphragm spring will both be replaced.
Pretty much everything but the stator is removed from the primary now. I am debating whether or not to just replace the stator while I am in there. It test out OK, so I am not sure yet.

I also removed the transmission sprocket, since I plan to replace the final belt drive with a chain.

Progress is being made. Now to order the parts I need to get the Primary back together.