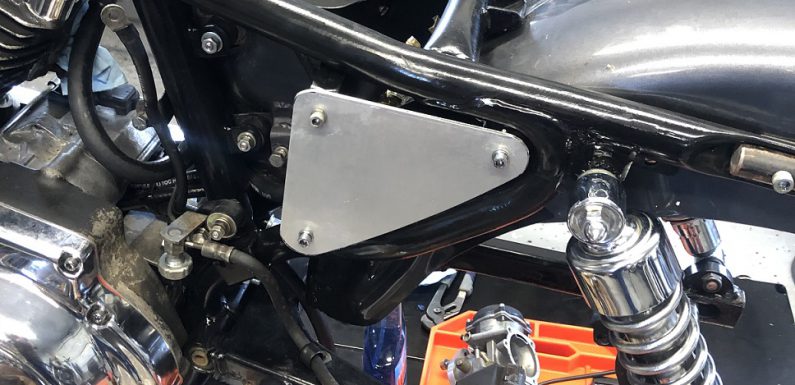 Had the day off, it was cold out so I fired up the heater in the garage and did a little work on the Sportster. Pretty simple project to make a side cover. On a stock Sportster this covers the ignition module, on this project it will be where I mount the kill switch, start button, and ignition key.

A week or so ago I ordered a piece of 6061 T6 Aluminum Sheet, 12 Inch x 12 Inch x 0.125 Inch on Amazon.


I used the side cover from the 1990 Sportster as a template to trace the outline on the piece of aluminum sheet.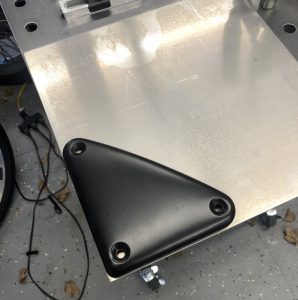 Once I had the outline traced and the bolt holes marked, I cut it out with a jigsaw.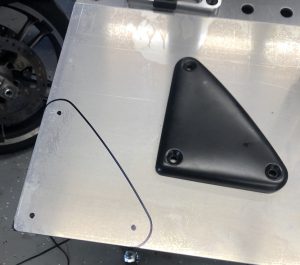 Then drilled the holes with a 1/4″ bit. Used the Dremel with a sanding drum to clean up the edges.
Mounted it to the frame with three 1/4-20 socket head bolts and 3/4″ expansion nuts. I think it looks really good mounted up.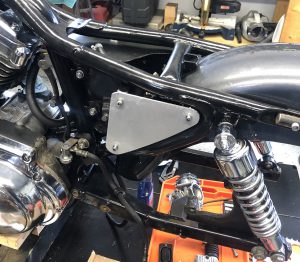 Still needs to have the holes cut for the kill switch, ignition key switch, and the start button, then I'll do a bit more finishing on the edges and polish it up.
Also started on some of the wiring. Got the start relay wired up, along with the neutral switch and oil pressure switch. Have not figured out where I am going to put the neutral and oil pressure lights but I ran the wires to the riser clamp, I'll figure something out.
Pulled the rear fender so I can start cleaning it up to get it ready to paint.
It was a good day and a fair bit of progress was made… back to work tomorrow.