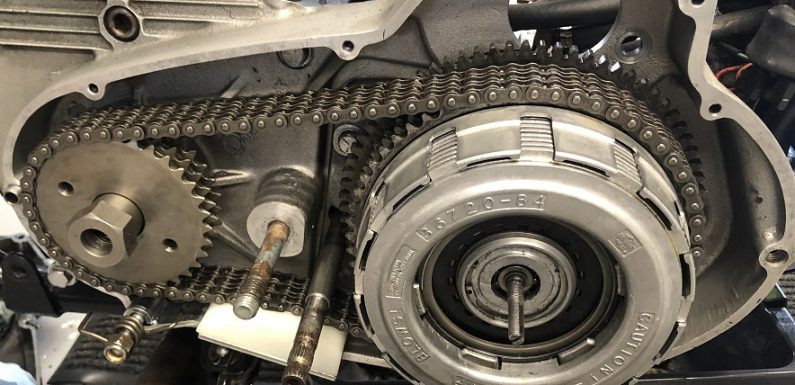 Busy weekend in the garage, made some good progress on the Sportster. Checking things off the Sportster project to do list. New stator, new primary chain, new clutch…

Installed the new stator. Nothing to see here, pretty simple.


The stator I ordered did not come with the mounting screws. I picked them up from Bayside HD. They had 2 of the correct ones, and 2 for a later year (they are just a bit longer than the correct ones). The later year torx screws worked without issue.
Also installed the new primary chain and chain tensioner.


The new clutch is in. The retaining clip was a pain to get back in.
The best price I found for the Barnett Extra Clutch plate kit was on Amazon. The kit includes 9 friction plates and 8 steel plates. This adds an extra friction plates by replacing the spring assembly in the middle of the stock clutch pack.
Very help instructions on installing the clutch diaphragm spring and the order (and direction) of the seats/washers can be found in this post on the XLForum. To install the retaining clip for the clutch spring back into the hub I used the clutch spring compression tool (just like with the removal), JP Cycles – Part Number 6300205. This compresses the clutch diaphragm spring so you can get the clip back in.
Don't want to end up like this guy. His commentary is very entertaining.
The video is for a newer model but the replacement process is pretty much the same as on the 1990 Sportster. Looks like Barnett updated the notes which can be found here Barnett Extra Clutch Kit Notes. Remove all existing plates, damper seat, damper spring, and spring plates. Do not use any of the original parts from the clutch pack.
Not ready to button everything up yet. Need to torque down the front sprocket nut and get the starter installed. Not going to do this until I get a little further along, just in case I have to pull anything apart.