Got the new bars, risers, and grips this week. Got them all fitted up. Still waiting on the switch covers and front master cylinder from eBay, should have them sometime next week. I think the new bars look fantastic, little different look than I have done on my other bikes (ape hangers – bars to the stars – FTW!).

The top clamp I picked up a few weeks ago looks great.


I'll get the cables and wiring cleaned up and routed right once I have the rest of the pieces and parts I need.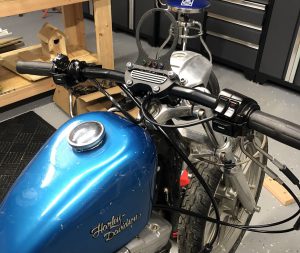 The drag bars look pretty tough on the bike. The coke bottle grips are pretty sexy as well.