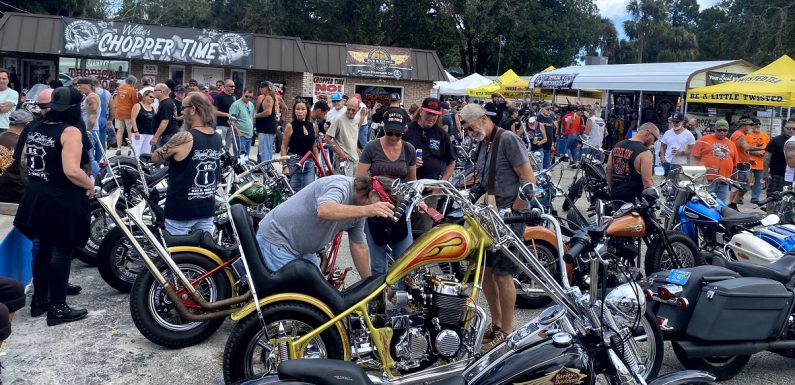 A few days before heading down to Daytona for Biketoberfest 2022 I called the timeshare to check on things and they had to cancel our reservation due to storm damage from Hurricane Ian. Everyone was OK but there was some damage to the property which needed to be repaired before they could open. I quickly started looking for alternatives worried we might have to cancel the trip. I was not able to find anything for the whole week. I found us a room in St Augustine for a couple of nights, and then the rest of the week down in Daytona just a few blocks south of Main Street.

Friday morning we packed up the Street Glide. Yep there is a weeks worth of stuff in the duffle bag on the rack and in the saddle bags. We have gotten pretty good at packing light to make sure there is plenty of room to bring stuff home for the grandkids.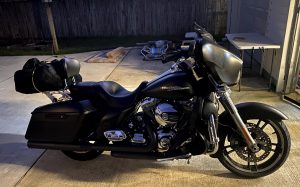 We headed south just after sunrise. It was a little cool starting out but not too bad, we layered up. By the time we made it through NC we were peeling off layers. We were still a little over dressed when we made it to St. Augustine around 5:30 PM, a little over 10 hours on the road.
We spent Friday night and Saturday kicking around St Augustine. Visited the Castillo de San Marcos. Walked around downtown. Had a great dinner at the Raintree Restaurant. The food was amazing totally recommend checking this place out if you are in the area.
Sunday we rode down A1A to Daytona area. There was a lot of storm damage on the way down, lots of trash piled up on the side of A1A, still some sand over a few of the side streets, and most of the beach accesses looked pretty torn up. We got to Daytona mid-afternoon and stopped in at Tipsy Taco in Ormond Beach for some refreshments and tacos then headed on to our hotel.
Monday we kind of just rested a bit. Had breakfast at Peach Valley Cafe in Ormond Beach then headed out to Bruce Rossmeyer's Daytona Harley-Davidson to pick up a couple t-shirts and a few things for the grandkids before it got crazy. Had wings for dinner at Charlie Horse in Ormond Beach.
Tuesday we rode down to Ponce Inlet Lighthouse. We climbed the lighthouse.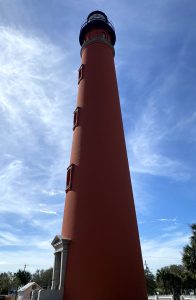 We had hoped to visit the Marine Science Center at Ponce Inlet, but it was closed – I guess due to storm damage 🙁 A lot of the beach down this way was still closed as well.
Tuesday afternoon we played some mini-golf and then stopped in at Cherry Hill Ice Cream. Cherry Hill Ice Cream was amazing! We ended up stopping in there every afternoon. I hope we will be able to visit them again next year.
There did not seem to be as many people in town as usual during the days leading up to the official start of Biketoberfest. I know there were several hotels closed due to damage from Hurricane Ian so I am sure that played a role in things. I mean that almost caused us to have to cancel or trip.
Wednesday we rode down US 1 to Titusville, FL to Miracle City Harley Davidson just to check it out. Miracle City Harley Davidson dealership opened in 2019 and we had never been by there. Nice dealership and the folks were friendly, kind of expected them to have something going on but they said not till Thursday night. We left there and headed to Space Coast Harley Davidson to see Jasmine Cain.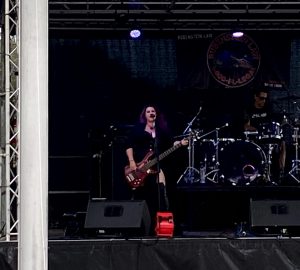 Was pretty surprised there were not more folks down there, but Jasmine Cain put on a great show as always. The ride back to Daytona got a little wet, it was the only time we ran into any rain the whole time we were down there.
Thursday we headed out to the Biketoberfest Welcome Center to pick up our pins and poker chips then to Willie's Old School Chopper Show to check out the bikes. This show is always a good show. Lots of really interesting bikes and people. As with other things it seemed a little smaller than usual but it was still a great show.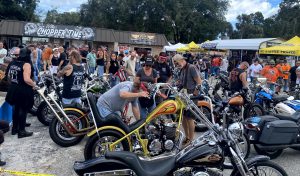 At Willie's there was this really neat Sportster with a side car. I thought this was one of the coolest things I had seen in a while.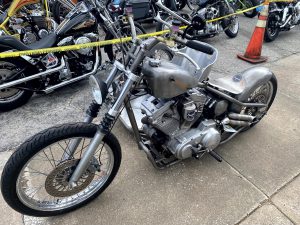 Sandy really liked this Triumph trike.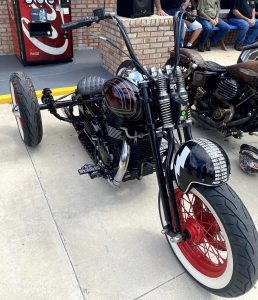 Of course I am a sucker for a good looking Sportster chopper.


Some great looking bikes in the show and also parked on the street.
After Willie's we headed back out to Bruce Rossmeyer's Daytona Harley-Davidson to check out the vendors and visit the HOG pin stop.
We spent Thursday night on Main Street at the Jasmine Cain show at the Full Moon Saloon. Great show!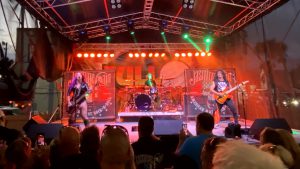 The crowds at other places seemed small, but Main Street was pretty packed – even so I still think it felt a bit less packed than usual.
Friday morning we headed back down to Main Street for the Boardwalk Bike Show. As with Willie's show this seemed to be a bit smaller than years past. Not as many folks and not as many bikes. Lots of over the top baggers (to each their own), a few cool bikes. Still some interesting things to look at.
I really dig this sticker, cause I also fuck up a lot.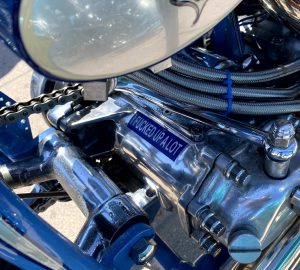 The details and leather work on this bike from the Boardwalk show really caught my attention.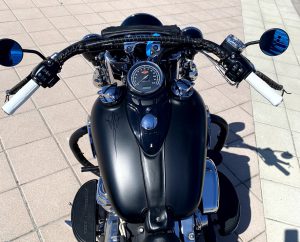 Over the past several years we have gone roller skating on our last night in town, this year was no different. Friday night is teen night at Astro Skating Center in Ormond Beach. We are the oldest folks there by at least a couple of decades, but we still have a great time.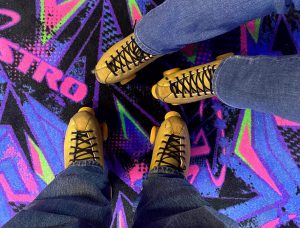 Saturday we were up before the sun to head home, still a bit sore from skating the night before. The weather was good and we blasted up 95 only stopping for gas. We were home around 5 PM. We had a great trip… Around 1700 miles over the week… Already looking forward to next year…
Even though we had to change things last minute, we had a great trip. The crowds were a bit smaller and there was still a lot of evidence of storm damage just about everywhere. Glad most of the folks we talked to had faired OK with Hurricane Ian and the area is recovering. Been a rough couple of years down there, first with the pandemic and then the hurricane. Hopefully things will get back to normal soon.
Regardless of how much fun we have it is always good to get back home. First layer of road grime is washed off the bike and she is ready for the next ride…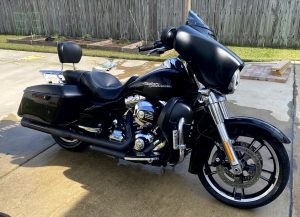 Back to reality…