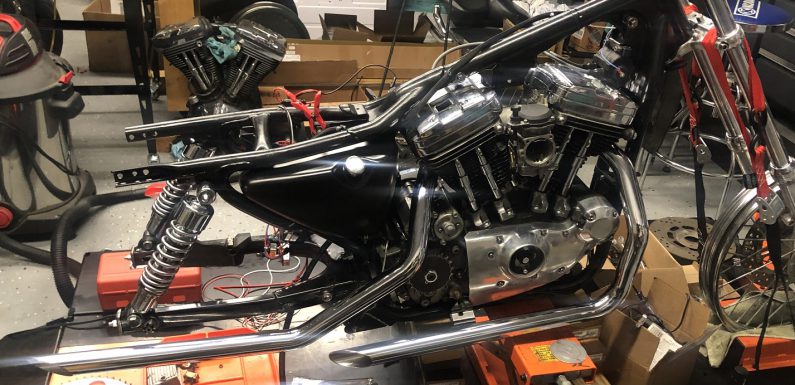 Friday night I finally had everything together to give starting the 1988 Sportster a go. Ignition in and static timing set, oil in the tank, primary oil in and primary chain adjusted, and the exhaust mounted. I wired up a temporary oil pressure light so I could make sure it was getting pressure after it started.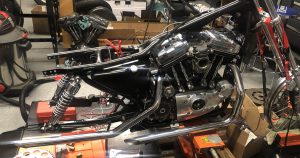 I pulled the battery from the 1990 Sportster to get it some power and I was planning to use the gas tank as well but decided to order a auxiliary service fuel tank.


The were some negative reviews on auxiliary service fuel tank, and it doesn't hold a lot a fuel, but it worked just fine and was well worth the price. The capacity was enough to run the bike for several minutes and the petcock allows for the supply to be shut off if needed. I did have to replace the fuel line that came with it, it was just a bit to small for the inlet on the carburetor, with a 1/4″ line.


Filled it with gas, hung it from the handle bars, and hooked it up to the fuel inlet on the carburetor. Filled auxiliary service fuel tank with gasoline and opened the petcock. Opened the choke and hit the button and…
She started right up!!!
She started on the first turn over. Oil pressure light went out after a few seconds. I checked to make sure oil was returning to the tank, all good. I also checked to make sure the battery was charging, yep good there as well. This is the first time this engine has been run in a couple decades.
Now to get her ready to ride… wheels, brakes, controls…