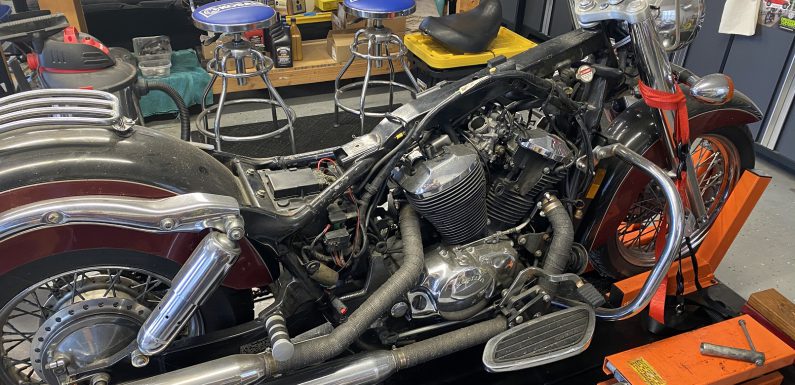 Honda Shadow that is… Been watching some videos on the TJ Brutal Customs YouTube Channel and it has given me some inspiration to freshen up the wife's 1999 Honda Shadow ACE. The Shadow runs OK now, just needs a little updating, a couple of things fixed, and some cleaning up – but I think we are going to get a bit deeper into it than that.

Here are the plans (at least to start)…
Rework carburetor – clean and rebuild, remove airbox, unnecessary hoses, and stuff, TJB velocity stacks, etc…
New exhaust, new exhaust gaskets…
Replace leaky petcock and update fuel filter.
Clean up, new fluids, etc.
Tune
I put together a Google Spreadsheet of some of the different parts and pieces I am planning to replace. Some of this stuff is already on the way (or will be shortly) 🙂
The Shadow is on the lift and I started pulling her apart.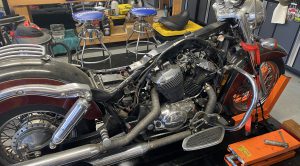 Pulled the seat, the tank, the air cleaner, and the air box off. Pulled the pipes and the crash bars (the wife doesn't like the crash bars so they won't be going back on). Disassembled the carburetor and got it cleaned up. Just getting started…
If I can get the wife to buy into it, I might look at replacing the stock tank and fenders to give it more of a bad ass look. We shall see.
Looking forward to this project… it should be ready to ride by Spring.