The stock rear fender is giant and with the new look we are working on for the bike the stock rear fender just doesn't fit (it's too big and it's too ugly). I picked up a trailer fender, some steel, and went to work to turn the trailer fender into a motorcycle fender which is hopefully better fit the new look. Same with the stock gas tank, it's big, kind of ugly, and just doesn't fit the new look we are going for. So the stock ACE gas tank is getting replaced with a peanut tank.

I picked up an inexpensive steel trailer fender from eTrailer.com. First I just tested it for fit.


It fits on there nicely. Definitely looks a lot better on there than the stock fender.
Came across another site, BobberCycle.com, which offers some great stuff for Honda Shadow VT750s. Picked up the mounts for the fender from BobberCycle.com, a nice set up for the rear fender struts and a rear fender front support. The rear fender struts mount to the bottom shock bolt and then to the fender.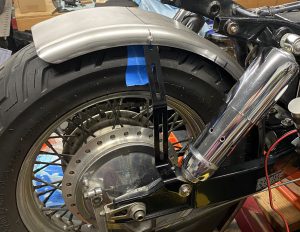 The rear fender front support bolts up to the swingarm and bolts up to the fender.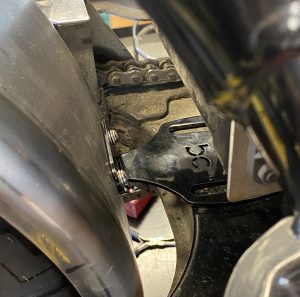 Not going to be running a passenger seat so it should be plenty rigid enough. The spacing between the fender and the tire is pretty tight (about 3/8″ or so), but I think that should be fine. It's sturdy and looks great.
I picked up this Custom Peanut Gas Tank for Honda Shadow VT600 VLX 88-07 from TJ Brutal Customs (I stole the pic below from TJ's website – hope he doesn't mind). I knew it was not made for the 1999 Honda Shadow VT750 ACE, but I figured I could make it work.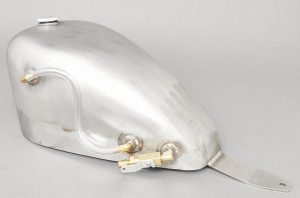 At least from the pictures it looked like the rear mount was at least close to the right place. I know there is no hole for the front mount, but that should be easy enough to fix with a drill.
The tank fits up there right nice. May have to put a 1/4″ spacer on the rear mount (or I could try to bend it to fit flush, probably will just use a spacer – may not needed it depending on the thickness of the seat mount).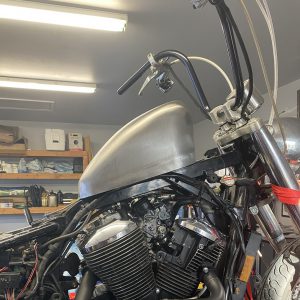 In the picture it looks like it is setting pretty far back, and it is setting a bit further back than the stock tank, but I still think it looks pretty good.
The TJ Brutal Customs Peanut Tank comes complete with welded in NPT bungs, connectors, and hoses for a sight gauge, and a brass petcock. I mocked up the fuel sight gauge just to get a feel for what it is going to look like.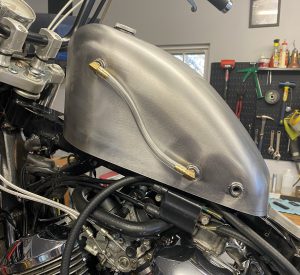 I had to drill a 3/8″ hole through the frame for the front tank mount. Mounted the rear tank mount, marked the location, marked the middle with a center punch, and then drilled a hole first with a 1/4″ bit and then with a 3/8″ bit. Used a 3/8″ bolt to attach the front tank mount to the frame.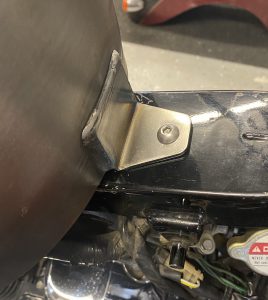 The new rear fender and tank look great! Wife is really like the new look of her bike.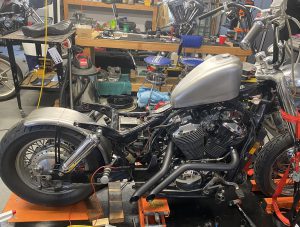 Those bars on there are new as well. It had a set of chrome ape hangers on there previously, but I picked up these black Biltwell bars at a swapmeet a few weeks ago. They are about the same height, but they are a bit narrower. Still working out what to do with the massive headlight, want to replace it with a 5 3/4″, have some things to work out with wiring first.
I have Friday and Monday off from work, so hopefully this weekend I can seal the tank. Then we will get it all fuel lines plumbed up and try to decide on paint.