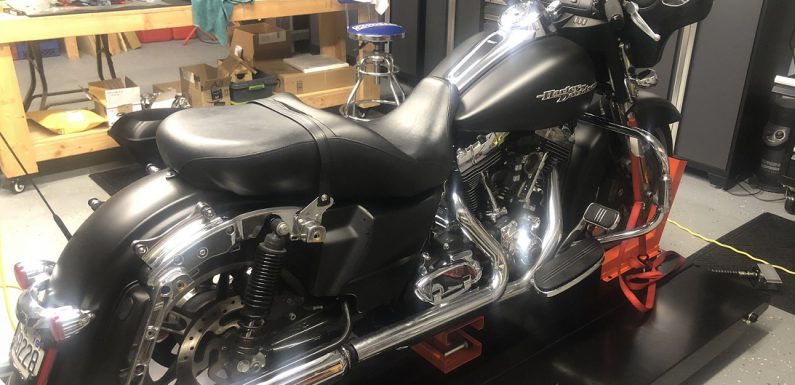 I have had the 2014 Street Glide since Biketoberfest 2013. We rode down there on a 2000 Electra Glide and rode home on the 2014 Street Glide. I really like the Street Glide but have not really done anything to it over the years other than a few cosmetic things. While down in Daytona this year I did lust over, and was tempted by, some of the new 2019 Street Glides but the '14 is a great bike, I just put new tires on it, and it is paid for, so instead I am just going to make a few improvements to freshen it up a bit: a new intake, a new exhaust system, and tuner.

Put the Street Glide on the lift and removed the luggage rack, back rest, seat, air cleaner cover, and saddle bags.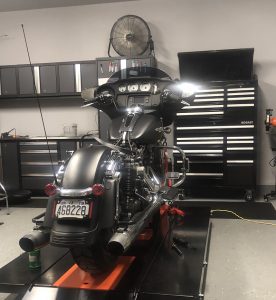 I wanted to keep running the stock air cleaner cover for now. Originally I was going to go with an Vance and Hines VO2 high-flow air filter kit, but it would not allow me to use the stock cover. I went with the Screamin' Eagle High Flow Air Cleaner Kit which I picked up from Bayside Harley Davidson. Having to remove the fuel tank to remove the stock induction module bracket was kind of a pain in the ass, but other than that it bolted right up.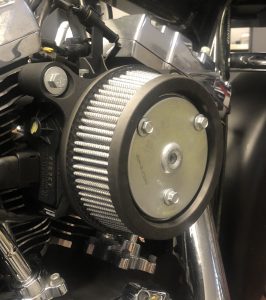 I looked at several different exhaust systems, there are a lot of great options out there, and ended up going with Vance and Hines. They are American made, have really good reviews, there are a lot of folks running them, and J&P Cycles had a great price on some black Vance & Hines Dresser Duals Exhaust Black. They were closeouts, and I am OK with that – especially since I got them for about half what the regular price was (closeout discount, plus my JP Cycles Gold Club discount, plus free shipping – win, win, win).
Removing the stock pipes and installing the Dresser Duals header pipes following the provided instructions was fairly simple and took a couple hours. Here is a quick shot of of the Dresser Duals header pipes installed waiting for the mufflers. I left the protective covering on them to hopefully minimize any accidental scratches or what have you while getting everything bolted up.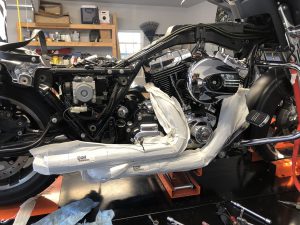 For mufflers I went with the Vance & Hines Eliminator 400 Slip Ons Black with Black End Caps. I liked the look of these in all black with the black end caps. The Eliminators matched right up to the Dresser Duals.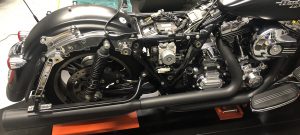 Once the header pipes and slip-on mufflers were installed I tightened everything down and removed the protective covering. I think they look pretty hot.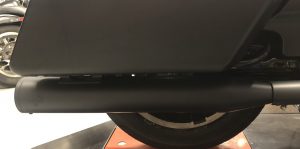 Replacing the air intake and exhaust requires the ECM to be reprogrammed. For tuning I used a pre-configured map from the Vance & Hines Fuelpak FP3 Fuel Management System which matched the high-flow air intake, Dresser Duals, and Eliminator 400 mufflers. I did a post on the FP3 install here. I did have an issue with the Vance and Hines app when trying to re-map the bike, it would not load any of the maps. There is a Contact link in the app to call V&H. Called them, they answered, and it was quickly sorted out – great customer service!
All put back together and off the lift. Really like the look of the black headers and mufflers.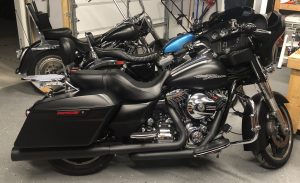 Next thing on the upgrade list is replacing the rear suspension. I had the dealer replace the junk stock air shocks, but they talked me out of the set of Progressive shocks I was looking at, and, well, replaced them with another set of junk. Will probably end up going with a set of Progressive Suspension 944 Ultra Touring 13″ Shocks before Spring. Other than some cosmetic things (needs more skulls) I doubt I will do much else to it, other than ride it, until I wear something out.
Update: I replaced the rear shocks. I went with a set from Suspension Technologies USA. Did a write up on them here…
I mentioned lusting after the 2019 Street Glides while down in Daytona. Well here is one of them.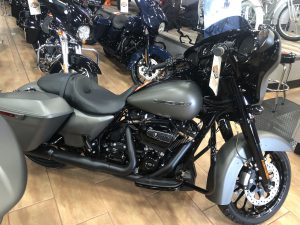 Great looking ride. The denim gray with the blacked out 114″ motor looks real nice. Going to stick with the 2014 for at least a couple few more years.
Anyone need a set of stock headers and mufflers for a 2014 Street Glide? I have got a set I'll let go cheap 🙂