Just dressing up the Harley Davidson Street Glide fairing a little with a Custom Dynamics Vent Trim and a Ciro LED Lighted Windshield Trim.


Ciro makes a vent trim as well but I did not like the look of it, so I decided on the Custom Dynamics Vent Insert. The Custom Dynamics Vent Insert is available in both black and chrome, of course I went with the black one.


The Custom Dynamic vent trim is pretty similar to the stock vent trim except it has the mesh grill in it. Very easy to install. Most difficult part of the installation was making sure all the adhesive from the stock trim was removed and the area is clean for the new adhesive on the Custom Dynamics Vent Insert.
Custom Dynamics also has a LED lighted windshield trim piece, but I liked the look of the Ciro LED Lighted Windshield Trim better. It was just more sleek looking and the LEDs do not jump out at you when they are not illuminated. The running lights are bright white LEDs and the integrated sequential turn signals are amber. The kit comes with detailed instructions, the windshield trim, two y-cables to connect right into your existing front turn signal wiring, replacement bolts for the trim, and some wire ties to make everything nice and neat.


Installing the vent trim and windshield trim was pretty simple. It took a little over an hour combined. I did the install by myself, but an extra set of hands would have been helpful when installing the windshield trim. I think the both trim pieces look great on the fairing.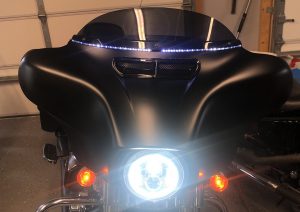 Two great looking additions to dress up the fairing a bit 🙂 I plan to replace the front turn signals with a set of Custom Dynamics ProBEAM Amber/White Dynamic Ringz in the future.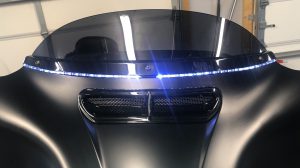 A few weeks ago John Maxwell did an install video for the Ciro LED Lighted Windshield Trim on his YouTube channel. Great video which goes over the install in pretty good detail with some tips to help make it go a bit easier. Check it out below:

Sandy and I are headed out to attempt our Iron Butt Saddlesore, 1000 miles in less than 24 hours, Ride this weekend. Fingers crossed for good weather…