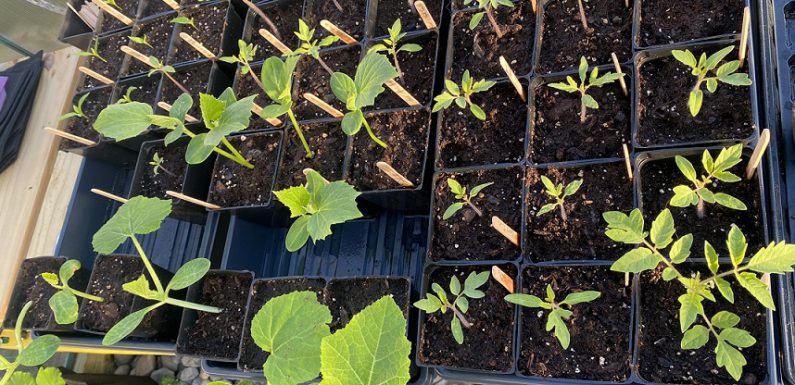 Happy Friday! Looking forward to getting out on the bikes and also excited about getting my garden going. With longer days and temperatures warming up I was having some trouble controlling the temperature in my greenhouse. I decided to add an automatic opener to the roof vent and an exhaust fan to help manage the temperature. So far I have tomatoes, cucumbers, squash, and pepper plants all growing in the greenhouse waiting for it to get warm enough to be transferred to the garden.

I ordered an inexpensive automatic window opener on Amazon. Very easy to install, the bottom arm attached to the channel of on the greenhouse cross beam and the top leg screwed in to the window with a couple of self-tapping screws. The screws included with the kit were too long but I had some which worked fine.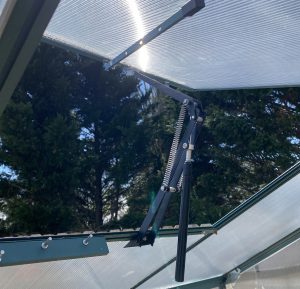 The automatic opener starts to open the roof vent when the inside temperature of the greenhouse reaches around 70 degrees. It is fully open when the temperature reaches around 80 degrees. It closes as it cools down in the late afternoon.
I also installed an 12″ exhaust fan and a programmable thermostat. To support the exhaust fan I built a frame out of 2×4 and cut a hole in the polycarbonate to fit the fan. The frame is attached to the greenhouse using roofing screws. The exhaust fan came with a variable speed controller, but I am not using it – just letting it run at 100% when the thermostat turns it on.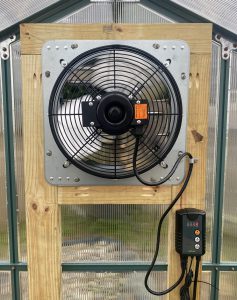 The programmable thermostat is currently set to 74 degrees. This way the exhaust fan does not come on until the roof vent has opened.
The exhaust fan has shutters which blow open when the fan is running. The shutters close when the fan is not running, but they do not really create a weather proof seal. I saved the polycarbonate I cut out for the fan so I can make a "plug" to seal up the exhaust vent in cooler weather.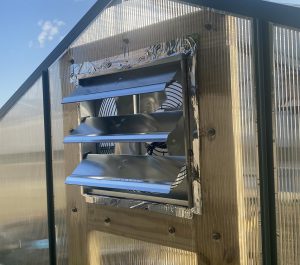 Added some duct tape to seal around the fan to help keep water out.
My vegetable plants are doing great!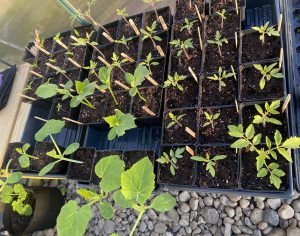 Tomatoes, cucumbers, squash, and peppers all started from seeds in the house a few weeks ago and for the last week or so they have been in the greenhouse. Will be at least another week or so before it will be safe to put them in the garden.