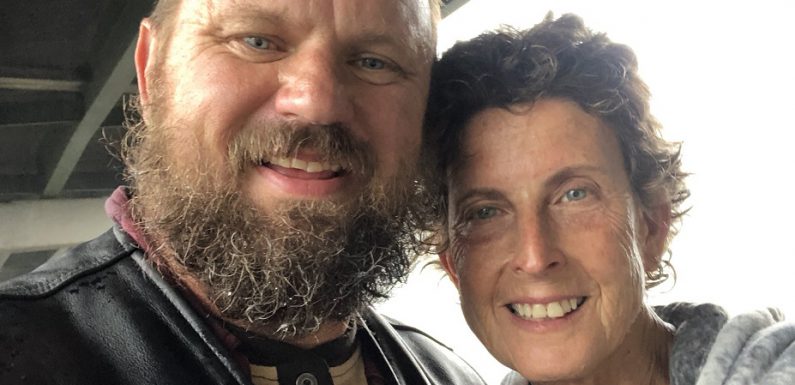 Sandy and I did it!!! A little more than 1000 Miles in about 17 and 1/2 hours!!! We started around 6:30 AM on 8/17/2019 at a 7-Eleven off Route 10 and 58 in Suffolk, VA, headed down to Townsend, GA, turned around and ended at the same 7-Eleven in Suffolk, VA a couple minutes after midnight on 8/19/2019. Took a little longer than I had originally planned, but it was a good day and a great ride!

Of course for a long ride, you need to start things off right. After getting gas and documenting our start we enjoyed a couple of Nitro Cold Brews at Starbucks to get us going.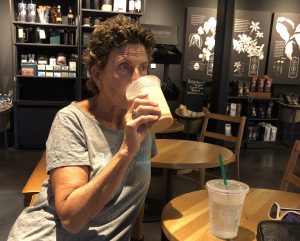 Shout out to Mary, one of our favorite baristas at the Suffolk Centerbrooke Starbucks, for taking the time to be our start witness for the Saddlesore 1000 certification.
From there we headed west on Route 58 to Emporia, VA and stopped for gas to document our turn south onto I-95 South. We did not stop again until just before South of the Border. I pushed the range of the gas tank here and cut it kind of close, gas stops would be closer together the rest of the trip. Had a couple of snacks and some water before heading south on I-95 through South Carolina.
The weather was pretty decent for most of the ride through North Carolina and South Carolina. A little warm, but it was overcast for almost the entire route which made for a more comfortable ride. We did run into a couple of short showers in South Carolina on the way down, then a pretty good downpour shortly after we crossed the Georgia Line. We had to stop under an overpass for a bit to wait out the downpour in Georgia.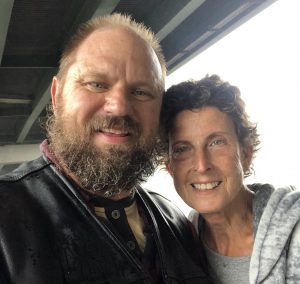 The picture does not effectively display just how wet we were. We got caught in a pretty significant downpour and we had to ride about 2 miles before finding an overpass to stop under, we were pretty well soaked. We were a bit over 400 miles into the ride at this point, if this had happened at 200 miles in we might have called it and headed back home. We were almost half way so we powered on (once the rain slowed down). My boots never did completely dry out.
Due to the weather we did cut the route a bit short in Georgia. Instead of going all the way to Brunswick, GA we turned around in Townsend, GA. A quick selfie at the turn around point in Townsend, GA.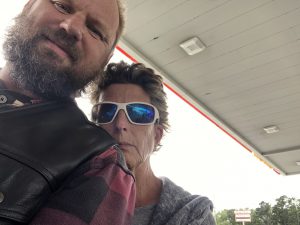 We were still a little damp and the weather was looking like it was going to get worse. Since the weather was looking bad, this would be the turn around point. We could make up any short fall on the way home. We hit a few showers on the ride back up through Georgia. Then we ran into a pretty good storm just before exit 53 in South Carolina so we stopped at a Cracker Barrel for dinner to wait it out. After that we ran into a few light showers up through North Carolina, but nothing that really slowed us down. When we got back into Virginia the roads were really wet, looked as though we had lucked out and were just behind the rain there.
Here is the Google Map Link of our route. A screenshot of the map of our final route is below: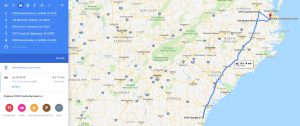 Since we cut a few miles off from our turn around, we added a bit on the return trip. Instead of getting back on Route 58 in Emporia, VA we continued north up I-95 to I-295 up to Route 460 in Disputanta, VA and then taking Route 460 home. We wanted to make sure we had 1000 miles covered since we had turned around a bit earlier than expected. A quick stop for gas in Disputanta, VA to document the turn onto Route 460. The final 50 or so miles down Route 460, in the dark, seemed to be the longest part of the ride.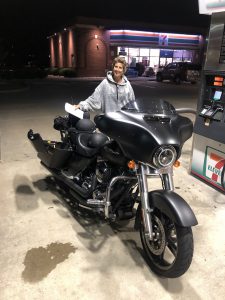 Johnathan, our son, met us at the 7-Eleven a little after midnight to witness the end of the ride for the Iron Butt Saddlesore 1000 certification.
Along the way we kept a log and collected the documentation necessary to submit for the Iron Butt Association Saddlesore 1000 Certification. This is still an attempt at the Saddlesore 1000. I'll submit all the paperwork and documentation for certification of the ride to the Iron Butt Association later this week and we will see what happens (will probably be a couple of months before we know if we get certified). However it goes it was a great ride and I enjoyed the time on the bike with Sandy.
Once I get a few dozen cups of coffee in me, I'll probably go clean all the bugs we killed off the bike 🙂