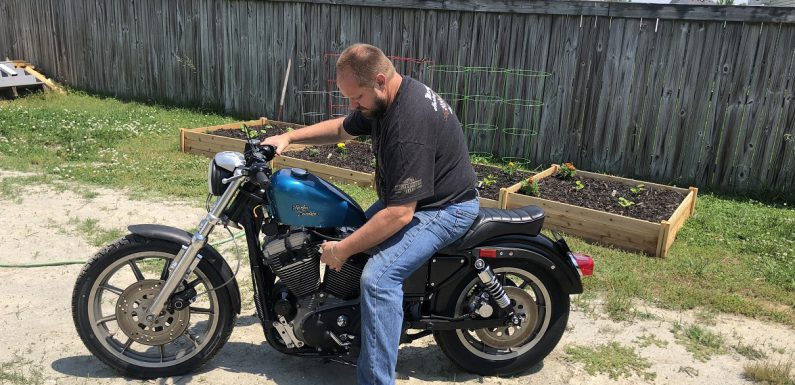 Spent the weekend tightening up a few things to attempt to get the Sportster project to go down the road. Brakes, controls, and some other small things all which needed to be done before I could make her go. Then… she went!

Got the left side controls buttoned up. Had to use later style covers and buttons. All of which I picked up on eBay.


So that's all buttoned up and looking good (and working).
Reinstalled the pulley cover. This took a trip to Lowe's to pick up some of the bolts and such I needed.

Pulley cover, rear brake master cylinder, and rear brake pedal installed.


More importantly the brakes work.
Took a bit to get the brake lights working. The wiring in the new rear light I got was backwards. The contact for the running light was switched with the contact for the brake light. That was an easy fix. Then I had some issues with the front brake switch. It worked until I tightened everything down. I ended up sanding out the hole in the control cover abit, problem solved.
Got good brakes both front and rear. The rear brake light is also working as it should.
Tightened everything up, adjusted the clutch, and gave it a good once over to make sure I had not missed anything important.

Rolled her out of the garage and then…
…she went down the road.

Unfortunately the first ride ended at the end of our street. Not due to any mechanical problem or any thing serious. I ran her out of gas :). So had to push her home from the first ride.


Not the first time I have had to push a scoot, certainly won't be the last time.
She ran decent. There is a bit of a knock I need to look into, but other than that it was AWESOME! A bit more tinkering, a little fit and finish, and she will be right!