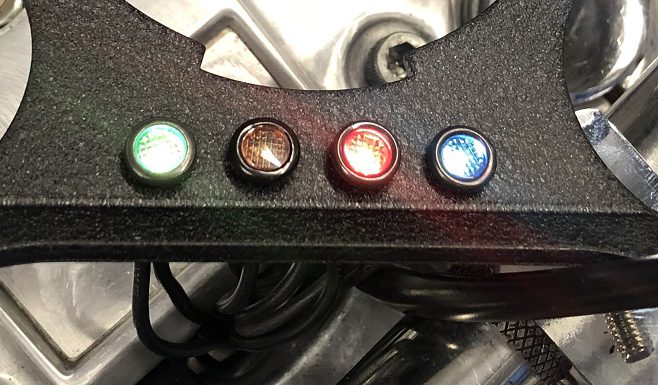 Just a bit of tinker on the Sporty this weekend. Nothing major done, but checked a couple of small things off the list. Every little thing gets me that much closer to making it go (and be bad ass while going).

Finished up the wiring and started strapping things down. Installed the front engine mounts. Also finished up the rest of the oil lines and got them all connected to the new oil tank. Hooked up the battery and tested out everything but the starter.
Oil pressure warning light, neutral indicator light, and high beam indicator light on the new dash.


All of them work, have the proper connectors, and the wiring is tucked up nice and neat in the headlight bucket.
Headlight works!


The stock bucket and 5 3/4″ headlight looks much better than that 7″ monster the previous owner had clamped to the handlebars. I did use an H4 conversion light instead of a sealed beam. High beam and low beam both work.
Got the front engine mounts on.


Not sure where the originals went. Not really sure why you would remove them, but they were not on there when I got the thing. Having them there should stabilize the motor and reduce vibrations.
The front oil lines have been replaced. I may end up having to replace the fittings on the oil pump. It was leaking really bad from the bottom one.


I am hoping replacing the line, the new clamp, and tightening everything up will fix it. Won't really know until it is running. Fingers crossed.
The rear oil lines are all routed, connected up to the new oil tank, and strapped down to fit nicely under the starter.

Looks like I may actually be able to try and fire her up in the next week or so!