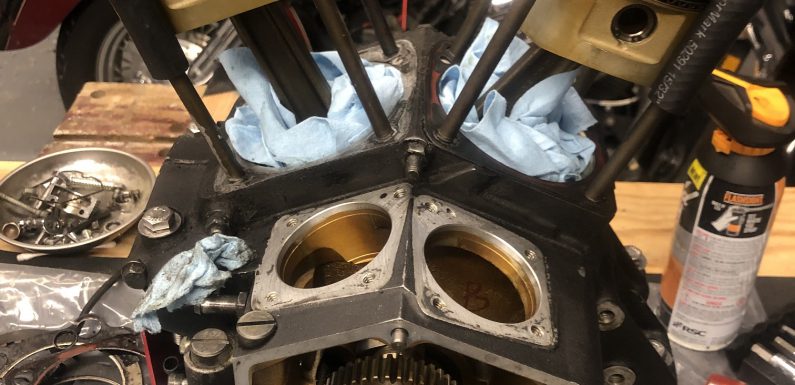 Everything has been cleaned up and ready to start putting things back together. Ordered some of the parts I need to get started with the assembly. Some of them will be here this weekend so I may get a chance to get some work done on it. Have to get the wife's Shadow back on the road first.

Here is what is coming:
Genuine James Complete Engine Gasket/Seal Kit – All the gaskets and seals needed. Even includes replacement valve seals, oil pump clip, base and head gaskets, pretty much everything I need to start assembly.
Piston Rings – .010 over.
Wrist pin clips – Manual says to replace these if the old ones are removed.
Replacement breather valve gear.
Some hardware for the tappet guides and rocker boxes.
Once it all gets here I should have everything I need to start assembling the engine.
Stuff I hope to get done in the next week or so:
Lap valves, install valve seals, and reassemble heads.
Hone cylinders to knock the glaze off of them.
Install rings. Install pistons. Have to check with an auto parts store to see if they have a loaner ring compressor.
Some time after the first of the year I am going to start looking for a frame/roller, I have my eye on a couple of different setups. Also have to start searching for a transmission and primary drive.
Looking forward to making some more progress.
As far as the wife's bike goes, the carburetor rebuild kits are here, but I am still waiting on the new fuel filter. Have to reassemble the carbs, clean the fuel tank, and get everything put back together. Probably won't have the fuel filter till next week, but should be able to get everything else done this weekend.