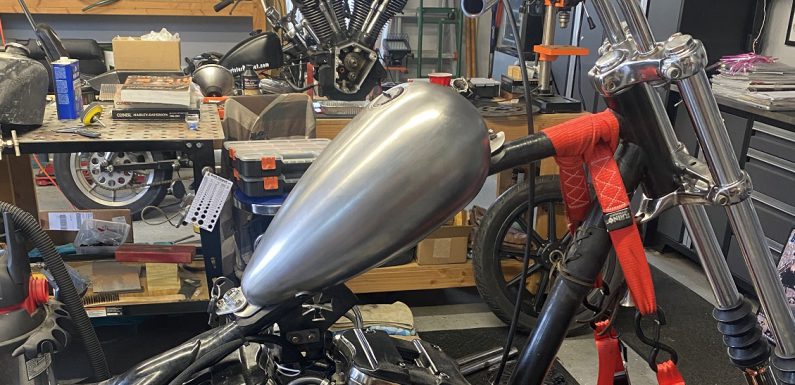 I had planned to strip down and repaint the sporty tank which was already on the 88 Sportster, but as I started working on it there was so much body filler and rust I decided to just go with a new tank. I picked up this narrow Mustang gas tank from Throttle Addiction and it was delivered last Thursday. The new tank looks AWESOME on the bike.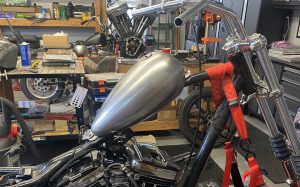 Just mocked it up on there. Looks great me thinks.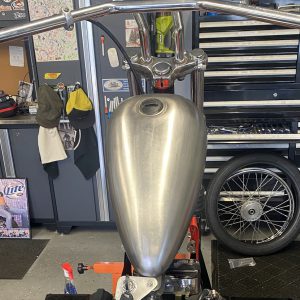 It's basically just sitting up there for now. I'll work on getting it mounted right. Then I'll seal it and slap a coat or two of rattle can paint on it. I am trying to figure out a color… paint it any color you want as long as it's black is usually the way I go, but for this I think it needs some color. I am thinking something bright – like a neon green or blue… don't know yet.
I have a Harley 21″ spoked wheel that I got in a box of parts I bought some time ago, it is going on the front. Hope to have the tube today and I can get it mounted and back on there.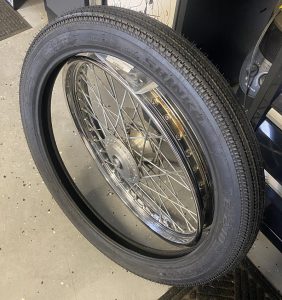 Then I can figure out what I am going to do with the rear wheel.
Slow progress is still progress…